Posted Oct 23, 2017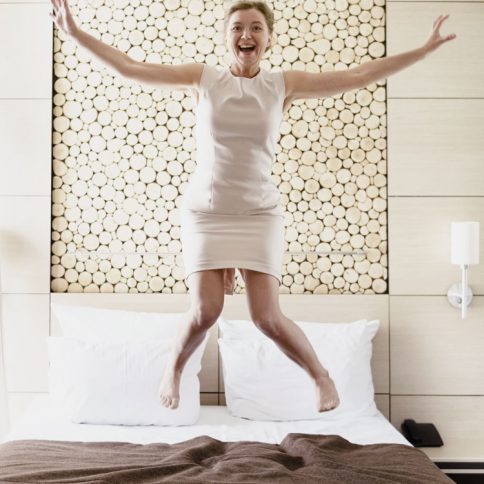 Posted Oct 23, 2017
We have lined up more than 50 top-notch preliminary judges to review and rank the 401 entries we received in our inaugural "A Hotel Room of One's Own: The Erma Bombeck | Anna Lefler Humorist-in-Residence Program."
They will narrow the field to between five and 10 finalist for judging by Alan Zweibel and Laraine Newman, original writer and cast member of Saturday Night Live. All entries are blind-judged, and two winners will be announced Dec. 4.
We're grateful to the finalist and preliminary judges who are volunteering their time to assess the entries. Here are the preliminary judges:
Alan Abitbol, assistant professor of communication, University of Dayton.
Elaine Ambrose, author, syndicated blogger and humorist who writes for The Huffington Post, BlogHer, HumorOutcasts and Midlife Boulevard. The founder of Mill Park Publishing, she has written or co-authored 10 books, including Menopause Sucks, a national bestseller.
John Batteiger, deputy managing editor, New York Times News Service and biographer of 1920s newspaper columnist and humor writer Don Marquis.
Tracy Beckerman, syndicated humor columnist and author of Lost in Suburbia: A Momoir and Rebel Without a Minivan.
Barb Best, award-winning humorist whose comedy material has been performed by Joan Rivers and other comedians. Her work has been published in numerous print and online magazines and newspapers, including The New York Times' "Metropolitan Diary," the Los Angeles Times' "Laugh Lines" and The Saturday Evening Post. She's written seven humorous books.
Tim Bete, former director of the Erma Bombeck Writers' Workshop and author of two award-winning humor books, In The Beginning…There Were No Diapers and Guide to Pirate Parenting, and a book of poetry, The Raw Stillness of Heaven.
Matt Bombeck, Los Angeles screenwriter.
Kim Bongiorno, author, freelance writer and award-winning blogger. She's a contributor to various online publications, has been published in nine books, including the New York Times bestseller I Just Want to Pee Alone, wrote a short story collection called Part of My World and recently completed her first young adult novel.
Joni B. Cole, author of the newly released Good Naked: Reflections on How to Write More, Write Better, and Be Happier, Toxic Feedback: Helping Writers Survive and Thrive and the humor collection Another Bad-Dog Book: Essays on Life, Love, and Neurotic Human Behavior. She serves on the faculty at the New Hampshire Institute of Art.
Tom Columbus, editor emeritus of the University of Dayton Magazine.
Kim Dalferes, author of four books and contributing writer for Smith Mountain Laker Magazine, which publishes her humor column, "Dock Tale Hour."
Matt Dewald, editor of the University of Richmond Magazine and former director of the Erma Bombeck Writers' Workshop.
Debe Dockins, community outreach and development coordinator at Washington-Centerville Library and director of the Erma Bombeck Writing Competition.
Lian Dolan, writer and broadcaster who is the creator and host of Satellite Sisters, an award-winning talk show. She is the author of two best-selling novels, Helen of Pasadena and Elizabeth the First Wife.
Allison Engel, journalist, author and playwright (Erma Bombeck: At Wit's End and Red Hot Patriot: The Kick-Ass Wit of Molly Ivins).
Margaret Engel, journalist, author and playwright (Erma Bombeck: At Wit's End and Red Hot Patriot: The Kick-Ass Wit of Molly Ivins). She and her twin sister Allison wrote Food Finds: America's Best Local Foods and the People Who Produce Them and helped turn the book into a show for Food Network, where it ran for seven years.
Estelle Erasmus, journalist, author, writing coach and former magazine editor-in-chief of five consumer publications. She is also an online writing instructor for Writer's Digest, where she teaches a course on personal essays. Her work has been published in The New York Times, The Washington Post, Salon, Newsweek, Next Avenue/PBS, Purple Clover, Brain, Child, vox.com, Redbook.com, Good Housekeeping.com, Your Teen, Quartz and more.
Karin Esterhammer, author of the humorous travel memoir, So Happiness to Meet You: Foolishly, Blissfully Stranded in Vietnam. Editor, writer and travel columnist for 15 years for the Los Angeles Times.
Mary Farr, author of eight books, essayist, blogger.
Bruce Ferber, Emmy- and Golden Globe-nominated comedy writer and producer whose credits include Bosom Buddies, Growing Pains, Sabrina, The Teenage Witch, Coach and Home Improvement, where he served as executive producer and showrunner. He's the author of two novels, Cascade Falls and Elevating Overman.
Kathleen Gerard, author of three books, including the thing is, a lighthearted comical novel about a therapy dog named Prozac who rescues a woman in grief. Her work has been awarded The Perillo Prize, The Eric Hoffer Prose Award and was nominated for Best New American Voices, The William Faulkner-William Wisdom Prize, The Mark Twain House Humor Prize, The Saturday Evening Post "Great American Fiction" Prize and Short Story America, all national prizes in literature. Her short prose and poetry have been widely published in magazines, journals and anthologies. Her essays have been broadcast on NPR. Several of her plays have been staged and performed regionally and off-Broadway.
Jason (Jase) Graves teaches English and serves as the department chair of language development at Kilgore College. He writes about home and family issues from a humorous perspective in his blog, "What's Wrong With Daddy?" His humor columns appear in The Longview News Journal, The Kilgore News Herald, The Shreveport Times and Texas Escapes magazine. He won a 2017 award for humor writing from the National Society of Newspaper Columnists.
T. Faye Griffin, award-winning comedy writer, producer and retired stand-up comedian.
Judy Gruen, author of the newly published The Skeptic and the Rabbi: Falling in Love With Faith and several award-winning humor books. She co-wrote the business book MBA Admission for Smarties: The No-Nonsense Guide to Acceptance at Top Business Schools, and her work has appeared in the Wall Street Journal, Chicago Tribune, Los Angeles Times and many other media outlets.
Jim Hannah, 30-year veteran of the Associated Press who currently serves as assistant director of public relations at Wright State University.
Eric Heyl, Patch.com field editor and president of the National Society of Newspaper Columnists Education Foundation. Formerly, he served as an award-winning Pittsburgh Tribune columnist and president of the National Society of Newspaper Columnists.
Abby Heugel, freelance writer, editor and aspiring hermit in Michigan who is waiting to be discovered as either a brilliant tweeter, creator of yoga pants that double as lint rollers or a professional asparagus eater. Her work has been featured multiple times on The Huffington Post, BuzzFeed and CNN, among other sites, and she can probably be convinced to write for pizza.
Leigh Anne Jasheway, teacher, humorist, stand-up comic, stress management coach and former radio host. The author of 25 books, she won the Erma Bombeck Writing Competition in humor writing in 2003. She organizes an annual comedy benefit, the Laff Off, and coordinates the annual Northwest Women's Comedy Festival.
Nancy Davis Kho, writer whose work has appeared in the San Francisco Chronicle, EContent Magazine, The Rumpus and various anthologies. An avid music fan, she writes about the years between being hip and breaking one at MidlifeMixtape.com, and was named a 2014 BlogHer Voice of the Year in the humor category.
Kathy Kinney, actress, improv star and co-author of three books, Queen of Your Own Life: The Grown-up Woman's Guide to Claiming Happiness and Getting the Life You Deserve, Queenisms: 101 Jolts of Inspiration and Queen of Your Own Life: If Not Now, When?
Paul Lander, comedy writer and producer for shows on ABC, NBC, Showtime, The Disney Channel, ABC Family, VH1, LOGO and Lifetime. He's written standup material that's been performed on Leno, Letterman, Conan and Last Comic Standing.
Karin Lippert, communication strategist and former director of publicity and promotion for Ms. Magazine as well as former director of public relations for DC Comics. She also served as the press/media director for The Phil Donahue Show.
Peg Loftus, former USA Today reporter, AP television assignment editor.
Joel Madison, sitcom writer, standup comic. During his stand-up days, he wrote for numerous comedians including Rosanne Barr — who gave him his first TV writing gig. His television credits include more than a dozen shows, including The Fresh Prince of Bel Air, The Larry Sanders Show, America's Funniest Home Videos and Malcolm and Eddie, which he created and served as co-executive producer. He frequently writes for various Judd Apatow projects. He is currently one of the writers for the new Apatow HBO series, Crashing.
Lois Alter Mark is a travel expert at USA Today 10 Best, blogs at Midlife at the Oasis and is the winner of three BlogHer Voices of the Year Awards.
Peter Marino, emeritus English professor at SUNY Adirondack, playwright and author of two young adult novels.
Fred Marion, essayist and author of a weekly email newsletter on art, life and creativity with a children's novel in progress.
Norine Dworkin-McDaniel, a longtime journalist turned "parenting snarkologist." She has written for just about every women's magazine you can buy at the supermarket checkout as well as for Parents Magazine, Huffington Post Parents, Parenting.com and Scary Mommy. Named one of TODAYParents' Funniest Parents in 2015, Norine is the co-author of the award-winning Science of Parenthood: Thoroughly Unscientific Explanations for Utterly Baffling Parenting Situations and the creator of the "one mom show" Science of Parenthood Live!  Norine's parents are thrilled that she's finally making use of her theatre degree.
Kevin McKeever, award-winning humor writer whose work appears regularly in the Stamford Advocate. His scribblings also have been featured in the (New York) Daily News, The (Toronto) Globe and Mail, USA Today and The Huffington Post.
Allia Zobel Nolan, former senior editor at Reader's Digest, who has published close to 200 books — some for children, others for cat lovers, some humorous, some devotional.
Shannon Olson, director of creative writing at St. Cloud State University and author of two best-selling novels, Welcome to My Planet: Where English is Sometimes Spoken and Children of God Go Bowling.
Anne Parris, blogger and a partner in Midlife Boulevard.com, a lifestyle site for women.
Susan Pohlman, freelance writer, editor, writing mentor and retreat leader based in Phoenix. She wrote the memoir, Halfway to Each Other, and six short films.
Julia Roberts, certified creativity coach who mixes science (the why of it) with coaching techniques (the woo of it) to help writers just write…with less downtime, doubt and delay. She has written three books, including Sex, Lies & Creativity — Gender Differences in Creative Thinking.
Lisa Rae Rosenberg, former comedy writer for television. She now writes about her funny family at her blog Smacksy.com.
Anne Saker, Cincinnati Enquirer reporter and author of Amid the Flowers.
Ritch Shydner, author of the newly released Kicking Through the Ashes: My Life as a Stand-Up in the 1980s Comedy Boom. He has made numerous guest appearances on late-night TV as a comic, played Al Bundy's co-worker on Married with Children and appeared in Designing Women, Roseanne and feature films such as Beverly Hills Cop II. He has written for Roseanne, The Jeff Foxworthy Show and HBO's The Mind of the Married Man. 
Suzette Martinez Standring, executive director of the National Society of Newspaper Columnists, syndicated spirituality columnist for Gatehouse Media and author of The Art of Column Writing and The Art of Opinion Writing.
Sherry Stanfa Stanley, writer, humorist and squeamish adventurer. Fighting midlife inertia, she stared down a year of fear through The 52/52 Project: a year of weekly new experiences designed to push her far outside her comfort zone. She wrote the memoir, Finding My Badass Self: A Year of Truth and Dares.
Michelle Tedford, editor of the University of Dayton Magazine.
Dan Zevin, Thurber Prize-winning humorist, who has written eight funny books, including Dan Gets a Minivan and The Day I Turned Uncool, which were both optioned by Adam Sandler. He has been an award-winning humor columnist for the New York Times, a comic commentator for NPR and a contributor to print or digital editions of The New Yorker, McSweeney's, Rolling Stone, Salon, the L.A. Times, Real Simple and Parents, among others. He teaches comedic writing at Sarah Lawrence College.
Jerry Zezima, nationally syndicated humor columnist whose work also regularly appears in the Huffington Post. He's written three books, Grandfather Knows Best, Leave it to Boomer and The Empty Nest Chronicles, and won six humor-writing awards from the National Society of Newspaper Columnists, where he served a stint as president.