You have talent, drive and a great idea for a comedy project.
---
You also have a busy family life, a lonely boss and a Schnauzer with irritable bowel syndrome.
Question:
So where's your writing time?
---
Answer:
Dayton, Ohio
Question:
So where's your writing time?
---
Answer:
Dayton, Ohio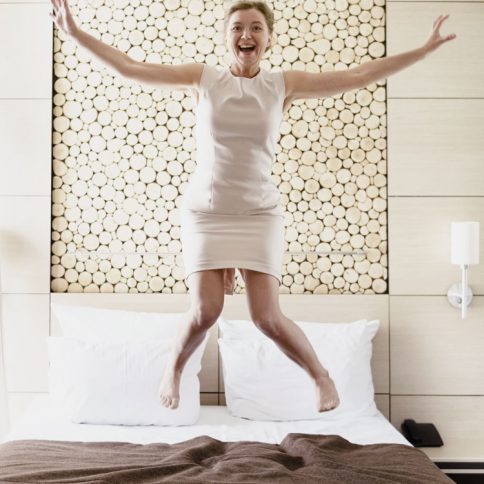 The Erma Bombeck | Anna Lefler Humorist-in-Residence Program
is the only one of its kind: a writing residency specifically for emerging humor writers.
---
Located adjacent to the University of Dayton — alma mater of legendary humorist Erma Bombeck — the Humorist-in-Residence Program gives two emerging comedy writers the opportunity to step away from their regular routines to live and procrastinate work as full-time writers. Where? At the University of Dayton Marriott, of course.
That's the idea behind "A Hotel Room of One's Own" — private, uninterrupted time for two writers to dive into their comedy projects without restrictions or responsibilities. It's the luxury of time, and an experience that can change a career. Plus room service! Applications will be accepted Sept. 5-Oct. 1, 2023.
The Erma Bombeck Anna Lefler Humorist-in-Residence Program
How Does It Work?
---
If you are selected as one of the 2022 Humorists-in-Residence, you will receive complimentary registration to attend the Erma Bombeck Writers' Workshop, the only national workshop dedicated to humor writing, at the University of Dayton (April 4-6, 2024).
After the conference, you will remain at the University of Dayton Marriott to surf that wave of workshop inspiration and work on your personal comedy project for another two weeks. That's right: two weeks of dedicated time for you to ride the elevators, stare pensively into the parking lot and swipe ham cubes from the omelet bar. (Hey, who are we to judge your process?)
The program will pay your basic expenses (travel, meals, lodging) as well as some "walking-around money" (or, as Julius Caesar called it, a "per diem"). Lastly, you'll be featured on the workshop website where you'll share your Humorist-in-Residence experiences in a personal essay.
And that's the package! Now, before you run around telling people you've applied for an all-expenses-paid, two-week trip to Dayton, Ohio (trust us on this), perhaps consider instead telling your writer friends that you've applied to a highly selective writing residency affiliated with a prestigious, national humor-writing workshop. Because that's what it is.
Did we mention the omelet bar?